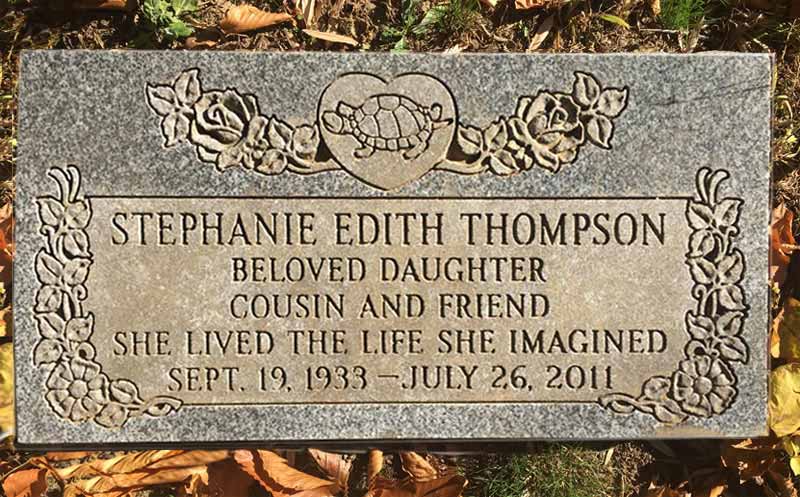 Stephanie Thompson, a founding officer and longtime member of NYTTS, passed away in July 2011. Her gravestone was recently unveiled (complete with turtle carving) at the West­chester Hills Cemetery in Hastings-on-Hudson, New York. See her memorial page.


---
New York State Department of Environmental Conservation invites public
to comment on current changes to hunting regulations being considered


Included in the possible regulation changes for 2017 are:
5. Idea: Amend 6 NYCRR Part 3 to close the season on diamondback terrapin and add the species to the list of native turtles with no open season.

Background Information: Diamondback terrapins are a species of turtle that live in brackish waters associated with the lower Hudson River, Long Island Sound, Peconic Bay, and the coastal embayments along the south shore of Long Island. Declines in terrapin populations and increasing pressures from habitat loss, nesting predation, and commercial harvest for specialized markets has prompted closure of harvest in all of the states in the terrapin's range with the exception of New York. Concerns for New York terrapin populations have prompted this change to repeal Part 3.1 to close the open season and provide protection to the species from harvest. Amending part 3.2 to add diamondback terrapin to the list of native turtles with no open season would effectively protect the species in all lifestages from being collected in the wild without a Special License to collect and possess.
You are invited to comment on these preliminary ideas, which may or may not be formally proposed at a later time. See complete announcement ideas proposed here. Submit your comments by December 23, 2016 to any ideas proposed by sending an sending an email or by writing to NYSDEC, Bureau of Wildlife, 625 Broadway, Albany, NY 12233-4754.


---
Saluting Our Own Lorri Cramer, Director of the NYTTS Turtle Rehab Program


When authorities find sick or illegally obtained turtles in New York City, Lorri Cramer is one of the first people they call. As a wildlife rehabilitator, Cramer nurses the little guys back to health until they are ready to be released in the wild. Over the past 30 years, she has taken care of thousands of turtles from her Manhattan apartment.


---
Honoring Peter Pritchard


The 14th Annual Symposium on the Conservation and Biology of Tortoises and Freshwater Turtles (New Orleans, 2016) honored Peter Pritchard for his life time accomplishments. Produced by the Turtles Conservancy.





Dr. Peter C.H. Pritchard from Turtle Conservancy on Vimeo.

The scientists paying tribute to Peter in this video, in order of their first appearance, are as follows:
---
The Art of Tony Monahan


"Carapace Explorations" by NYTTS member Tony Monahan, was hosted by the Queensborough Community College Art Gallery from February 18 through April 10, 2016. For those who missed the exhibit, Queensborough Community College has produced this YouTube video.



Along with painting with acrylic paint on stretched canvass, Tony describes his principal medium as "Paper Structures: selected papers layered with mat board and constructed with glue, rice starch, and reinforced with stainless steel screws, nuts and bolts. I do not use paints to color or design the paper. The papers are procured for their color, texture, patterns, and compatibility with the images I am planning. I often spend years collecting the right types of paper before starting a piece of art. It has taken 18 years to produce 50 quality pieces—an average of three per year."


---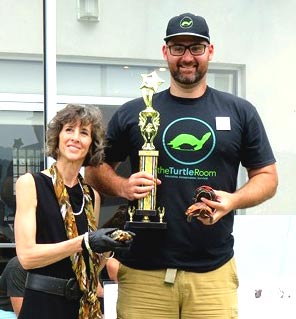 Best-In-Show at the 2016 Annual Turtle and Tortoise Show


Awarded for outstanding husbandry, Anthony Pierlioni displays Best-in-Show trophy and his winning turtles assisted by Show Judge Patrice Whittington.



The winning turtles were an IndoChinese box turtle (Cuora galbrinifrons), a spider tortoise (Pyxis arachnoides), and a Ryukyu black-breasted leaf turtle (Geoemyda japonica).


Photo by Bill Cermak

See all the winners at the Annual Show.
---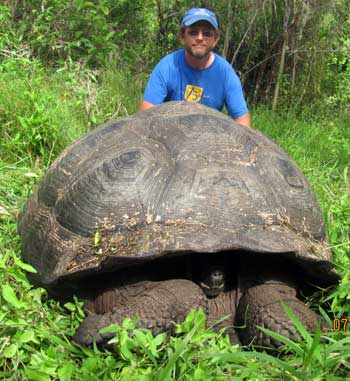 Professor Russell Burke Announces
Next Galápagos Tour

At long last we are ready to start accepting deposits for a Galápa­gos trip in January 2017. I've worked with our usual agent to put together a great itinerary.

I am familiar with all the sites and can promise you all the "nor­mal" wonderful sights in the Galápagos (penguins, flamingos, boobies, marine and land iguanas, sea turtles, frigate birds, sea lions, finches, excellent snorkeling, volcanoes, etc., etc., etc.) plus lots and lots and LOTS of tortoises. What I listed are many of the standard things everyone thinks of, but there is so much more. We will spend a day on a tortoise research project and do some conser­vation work. We will have an Ecuadorian guide with us all the time while there, and I will be happy to share what I've learned over the years as well.

The total cost, which will cover almost everything except a few meals, will be $5,500. We will set things up so folks can fly out of NYC or Miami, we will meet up in Guayaquil. We will take the first 15 people who get their deposits in. After that, we will take deposits to cover any cancellations. We can accommodate couples, special diets, many kinds of special needs.

If you're ready to pay your $1,000 deposit to hold your space, contact Eric Sheets at Latin Excursions at 305-356-8488 or eric@latinexcursions.com. Please contact me (Russell.L.Burke@hofstra.edu) if you have any questions about the trip. I can add lots more detail to what we will be doing.


---
Preserving Lonesome George
A short documentary from the American Museum of Natural History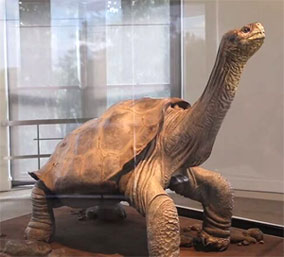 Lonesome George at the Museum of Natural History



Nearly four years have passed since the death of Lonesome George on June 24, 2012. Since then he was sent to the American Museum of Natural His­tory to be preserved for generations to see and appreciate the magnificent animal he was.



The video features many who NYTTS members may know, among them Darrel Frost and Chris Raxworthy (former and current Curators of the Department of Herpetology), James Gibbs (speaker at the 2003 NYTTS Annual Seminar), Eleanor Sterling (Center for Biodiversity and Conserva­tion at the Museum), and Linda Cayot (author of a paper from at the 1993 Pur­chase Conference and in the Proceedings: Conservation, Restoration, and Management of Tortoises and Turtles — An International Conference, published by NYTTS in 1997.


---
NYTTS Turtle Rehabber Lorri Cramer in The New York Times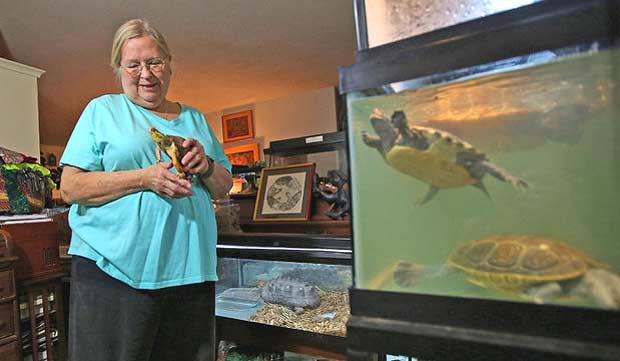 Lorri Cramer's Upper West Side apartment has the feel of an aquarium, with turtles in glass tanks cluttering the living room, surrounding the upright piano and edg­ing up to the furniture.

Read the full story —
A Caretaker of Turtles
by Corey Kilgannon,
Dec. 11, 2015

Photo: Nicole Bengiveno/ The New York Times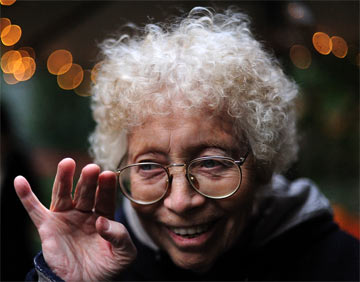 In Memoriam ~ Yaqui Guthrie Yamdrok
November 12, 1932–August 25, 2015


Yaqui Yamdrok (née Sally Guthrie) died on August 25. She was a long-time member of NYTTS, and many will remember her from meetings. After the death of her own turtle, Mullan–her compan­ion for almost 50 years(!), she spent many hours at the Wild Bird Fund caring for the turtles in the north window, for whom she was a constant advocate. We miss her impassioned presence.



She was an actress, a professional photographer, and the author of a children's book, By Two. About 15 years ago she wrote an essay about her life.

---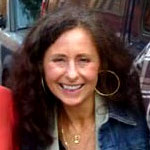 Excellent Advice from Barbara Daddario
on Turtles and Tortoises as Pets


Our own Barbara Daddario, Chair of the NYTTS Public Education and Information Committee, was interviewed by VetSteeet.com (a Web site devoted to advice for pet owners, finding veterinary care, and pet news). Read Barbara's advice in Tempted to Get a Pet Turtle or Tortoise? Read This First, by Linda Lombardi, March 27, 2014.


Frank with giant mata-mata
(Chelus fimbriata)
"That Reptile Blog" by Frank Indiviglio


Frank Indiviglio, former Staten Island Zoo and Bronx Zoo keeper, and long-time friend of NYTTS, writes numerous articles for That Pet Place, especially for That Reptile Blog as well as others.



Read some of Frank's turtle-related posts:


The Common Musk Turtle or Stinkpot – My Choice for Perfect Pet Turtle

Musk and Mud Turtles – Introducing Five Interesting Species

The Best Small Turtle Pets for Reptile Enthusiasts with Limited Space





See an Index of Frank's Blog articles.

Recommended article:



Commercial Foods: Benefits/Uses, Staples/Supplements from theTurtleRoom.




The Plight of Frogs and the Impact of the Frog Leg Trade
In the USA alone 1.1 billion frogs and in the European Union 2.3 billion frogs are imported for the frog leg trade every year. How long can this level of exploitation be sustained? Read Frank's shocking article: Frog Leg Trade Kills Billions of Frogs Annually and Threatens Species' Survival.




Populations worldwide are in serious decline. NYTTS salutes
Dr. Kerry Kriger and Save the Frogs for its vital conservation work.


---


Order Online! — NYTTS bumper stickers and turtle food (Turtle Brittle and AquaMax) can now be ordered online. Payment by credit card through PayPal, or by check. Go to the NYTTS Online Order Form.


Notice to New York City Residents



The New York State Department of Environmental Conservation now has a 24-hour tips line to report violations of protected species regulations. It is prohibited to sell any New York State species of reptiles and amphibians. If you see any New York species for sale in pet shops or markets, please call 1-800-847-7332. Report the name and address of the business, and the animals you observed for sale.

Turtle Care Video from the Mid-Atlantic Turtle & Tortoise Society

NYTTS Red-eared Slider Adoption Policy



Unfortunately, we no longer have local homes for these turtles because of the high numbers that have come to us in recent years. We sometimes have members with ponds who may offer to take in displaced sliders. We do not accept postings by individuals for adoptions of any species. All adoptions are handled through official NYTTS channels, and notices will be emailed to members at the discretion of our Board. Those members wishing to place turtles or to be considered as prospective adopters of sliders and other species should email QandA@nytts.org with their contact information and the species they are interested in placing or adopting. Photos of their turtle/tortoise habitats and accommodations should be provided. Photos of turtles to be placed should also be provided.



For more information on the status of red-eared sliders, see Sliders, Siders, Everywhere.


---
Past NYTTS Events and Member News
42nd Annual Turtle and Tortoise Show, Saturday, June 4, 2016 — See winners and photos.
Seminar 2015 — The 30th NYTTS Annual Seminar was held at the Sarah Lawrence College Center for the Urban River at Beczak in Yonkers, New York, on Saturday, October 24, 2015. Featured speakers included Britney Murphy, Danielle Taylor-Lang, and Nichole Shelmidine (WCS/Prospect Park Zoo); Theodora Pinou (Western Connecticut State University); and Ben Atkinson (Flagler College, St. Augustine, Florida). See photos from this meeting and review speakers and presentations.
41st Annual Turtle and Tortoise Show, May 21, 2015 — See winners and photos.
Urban Wildlife Appreciation Day 2015 — NYTTS Displays Turtles for sixth year, Saturday, May 4. 2015.
See slides of this event and previous years.
"Compassionate Release" of Hatchling Turtles — The NYTTS Rehabilitation Program, directed by Lorri Cramer, continues its collaboration with local Buddhist leaders. See the special release ceremony on October 11, 2014.
40th Annual Turtle and Tortoise Show, May 21, 2014 — See winners and photos.
Urban Wildlife Appreciation Day 2014 — NYTTS Displays Turtles for fifth year, Saturday, May 4. 2014.
See slides of this event and previous years.
Seminar 2014 — The 29th NYTTS Annual Seminar, was held in the Arsenal Gallery in Central Park, New York City, on Saturday, May 17, 2014. Featured speakers included Bronx Zoo Curator of Herpetology Don Boyer, Smithsonian Instutute paleontologist Tyler Lyson, Chelonian Research Institute director Peter C.H. Pritchard, and Chief Bronx Zoo veterinarian Bonnie Raphael. See photos from this meeting and review speakers and presentations.
Josephine Arnold, a long-time member and familiar face at the Annual Turtle and Tortoise Shows, passed away suddenly on Sunday, April 14, 2013. See memorial page.
Alex Ypsilanti, long-time member and NYTTS Board member, passed away after a long and brave battle with cancer on Saturday, April 6, 2013. See memorial page.
Seminar 2013 — the 28th NYTTS Annual Seminar, was held in the Arsenal Gallery in Central Park, New York City, on March 9, 2013. Featured speakers included Professor Russell Burke, sea turtle author Jack Rudloe, and Chelonian Institute Director Peter C.H. Pritchard. See photos from this meeting and review speakers and presentations.
NYTTS Joins Buddhist Leaders to encourage humane and environmentally friendly practices — The NYTTS Rehabilitation Program is collaborating with local Buddhist leaders to encourage the "New Compassionate Release Life Practice" and to support humane and environmentally friendly practices toward turtles and other animals. See Environmentally Friendly Buddhist Release Practices by Lorri Cramer, Director, NYTTS Turtle Rehabilitation Program (July 2012).
In Memory of Don Riemer — Long-time friend of NYTTS and contributing author to its publications in the 1980s and 90s, Donald N. Riemer, 78, died of cardiac arrest on June 13, 2012. He was a professor at Rutgers University where he conducted research and taught courses related to aquatic plants. See memorial and obituary.
38th Annual Turtle and Tortoise Show, June 2, 2012 — See Winners' List.
"Turtles of Central Park" Urban Safari Walk, May 12, 2012 — See slide show and video of the walk.
Fish and Turtle Rescue in Prospect Park, Brooklyn, March 2012 — For a second time NYTTS members particpated in the Fish and Rescue project in Prospect Park. See description and photo slide show.
Seminar 2012 — the 27th NYTTS Annual Seminar, was held in the Arsenal Gallery in Central Park, New York City, on March 10, 2012. Featured speakers included naturalist-artist David M. Carroll, U.S. Fish and Wildlife Bog Turtle Recovery Program Coordinator Alison Whitlock, and Chelonian Institute Director Peter C.H. Pritchard. See photos from this meeting and review speakers and presentations.
Snapper Found in February (20120 — Frank Indiviglio and his 4-year-old nephew Haiden discovered a large snapping turtle in Alpine, New Jersey, in February. See Snapper Active in February.

NYTTS Member Matt Hybel Hatches 47 Asian Brown Tortoises! August 2011 See story and photos.
Remembering Stephanie Thompson ~ July 26, 2011 — Read "Stephanie Thompson — An Appreciation" by Michael Sherwin, a longtime friend and early NYTTS member, as well as a slide show of snapshots.
37th Annual Turtle and Tortoise Show, June 4, 2011 — See Winners' List.
Bern Tryon, Well-known Bog Turtle Scientist, Dies May 6, 2011 — See obituaries.
Urban Wildlife Apprciation Day 2011 — On Saturday, April 7, 2011, NYTTS participated for the second year in the New York City Urban Wildlife Appreciation Day, held on the Cloisters Lawn in Fort Tryon Park. See slide show of the event.
Seminar 2011 — the 26th NYTTS Annual Seminar, was held in the Arsenal Gallery in Central Park, New York City. Review speakers and presentations.
Papa Tortuga at NYTTS — On February 13, 2011, Fernando, affectionately known as "Papa Tortuga" (Father Turtle), and his team from the Tecolutla Turtle Preservation Project, presented a documentary and lecture on Fernando's many years of work protecting nests and hatchlings. See more of Papa Tortuga at NYTTS.
Remembering JoAnn Vacchiano — Longtime NYTTS member and devoted turtle person JoAnn Vachiano passed away on January 20, 2011. See photo and remembrances.
36th Annual Turtle and Tortoise Show, June 12, 2010 — See Winners' List and Photos.
In Memoriam: John Thorbjarnarson, well-known Wildlife Conservation Society herpetologist, died of malaria in India on February 14, 2010. See A Life in Conservation by Chuck Schaffer.
Fish and Turtle Rescue in Propect Park — In November 2009, NYTTS volunteers joined the Natural Resounces Crew in Prospect Park, Brooklyn, in their fish and turtle rescue project while a small portion of the northeast end of Prospect Park Lake was drained by the Parks Department in preparation for reconstruction of the shoreline. See more information and slides of that effort.
Florida Turtle Tour: Topic of November 1st (2009) meeting: — NYTTS members who participated in turtle biologist George Heinrich's Florida Turtles Natural History Tour the previous summer shared their experience with slides and stories. See more information and a slide show of the 2009 summer tour.
---
The Asian Turtle Crisis: An Update — Two videos taken 13 years apart show that little changed in the markets in Guangzhou, China, from 1997 to 2009. Compare the videos.
---
Clarifying Regulations in New York State for all Native Species: The New York State Department of Environmental Conservation now requires a permit to keep any species of reptile and amphibian native to New York State. This includes all twelve species of New York turtles. The mechanism by which owners of New York turtles may acquire permits is being investigated. Read and download an overview of the new regulations.
---
Membership

Membership in the New York Turtle and Tortoise Society is open to all interested persons for an annual fee of $25. Your membership helps support the Society's activities and programs, including Rescue/Rehab and Public Education, as well as meetings and lectures. Go to Membership Registration Form.

Donations to the New York Turtle and Tortoise Society are tax deductible and can be made online with your credit card by clicking the Donate button, or by sending a check payable to NYTTS, to NYTTS Donations, 1214 W. Boston Post Road, Box 267, Mamaroneck, NY 10543.

NYTTS Mailing List. If you wish to be added to our mailing list, please submit your e-mail address. Those who subsribed to the NYTTS Yahoo Group have been added to the main NYTTS Mailing List. If you wish to remove your address from our list, please write Webmaster.
Questions? Send your inquiries to the appropriate committee chair: