| | |
| --- | --- |
| Photo courtesy of Zachary Grinspan | |
Lonesome George and the Galápagos Today:
What the Tortoise Taught Us

Lecture at the American Museum of Natural History,
New York City, September 18, 2014

Charles Darwin's visit to the Galápagos Islands in 1835 helped him decipher evolution by natural selection, the process responsible for the dizzying abundance of species on the planet. Today, hundreds of those species go extinct each year. In honor of the Museum's special exhibition of Lonesome George, the famed Galápagos tortoise that was the last of his species, join us for an in-depth conversation about biodiversity and conservation. Uncover the issues and current environmental initiatives in the Galápagos, and explore the possibilities and perils that lie ahead. The conversation will feature Johannah Barry and Linda Cayot of the Galápagos Conservancy, James Gibbs of the State University of New York College of Environmental Science and Forestry, and Arturo Izurieta, Director of the Galápagos National Park. The discussion will be moderated by the Museum's Director of the Center for Biodiversity and Conservation, Eleanor Sterling.

NYTTS members may recognize speakers Linda Cayot, a presenter at the internatonal 1993 Conference in Purchase, New York, and a Proceedings author; James Gibbs, a speaker at the 2003 Annual Seminar; and Eleanor Sterling, doctoral advisor to Minh Le Duc. See Turtles in Trouble: Viet Nam's Wildlife Is Being Traded Away.

Further information and tickets.



Barbara Daddario Wins Best In Show
at the 40th Annual Turtle and Tortoise Show!

For her breeding groups of Central American Wood Turtles
(Rhinoclemmys pulcherrima manni and R. p. incisa)

Barbara is pictured here with Show Judge Pete Warny
and some of her winning turtles. Congratulations Barbara!

See list of winners and winners' group photos.

Photo by Anita Salzberg


NYTTS gratefully acknowledges ZooMed Laboratories, Inc., That Pet Place, and Unco Industries, Inc.–Vermiculture, for their ongoing donations of gift certificates and turtle and tortoise care supplies, made available at our Annual Turtle and Tortoise Shows.






Seminar 2014 Speakers

Peter Pritchard, Don Boyer,
Tyler Lyson, and Bonnie Raphael

(Saturday, May 17)

Photo by Anita Salzberg

See Program



Volunteers Needed for Jamaica Bay Terrapin Conservation Project

Professor Russell Burke, Hofstra University writes:


Once again I am seeking volunteers to help with the Diamondback Terrapin (DBT) Research and Conservation Project at Jamaica Bay in June and July 2014. We've had a long and cold winter and we have lots of new projects, so this is likely to be a particularly interesting spring.



Volunteer work can be arranged around anyone's summer schedule. Prospective volunteers should contact me via email or Facebook. Most volunteers decide to come out one or two days/week; others come out for one longer stretch of days or weeks. Work mostly involves walking through known nesting areas and looking for nesting DBT, then following a standard protocol for marking nests, capturing DBT, and data collection. We also go in areas where visitors are not allowed. When you do this, you must be wearing an official terrapin volunteer T-shirt.



No one under 16 without a parent or guardian along. It is helpful if you have a pair of binoculars. Volunteers are never more than a 20 minute walk to the Jamaica Bay Visitor Center, which is air conditioned and has water and restrooms.



The first step is scheduling: Please go the calendar page at https://www.google.com/calendar/render?tab=mc, then enter the account address, JBTerp2014@gmail.com and password, Malaclemys2014. When the calendar opens up, you can type an appointment for any days when you can volunteer. Please include your name and phone number with each entry, so if I have to cancel for some reason I can reach you. I need people every day, more or less 7 am–7 pm. Feel free to sign up for the same time as other people; I usually need more than one person at a time.



Newbies: On your first day go to the visitor center at Jamaica Bay Wildlife Center (directions below) and call on the DBT phone (646.415.2074). BTW—I only have this phone on during the DBT season. One of us will answer and direct you to wherever the action is, and start training you. Special DBT Researcher Volunteer T-shirts are available free for those that make a serious volunteer commitment.



Remember: always schedule your volunteer time on the Google calendar before coming out, so I know to expect you.



The Visitor Center is on Cross Bay Boulevard just south of the town of Howard Beach.



You should bring water, a cell phone, binoculars and camera if you have them, food/snacks, sun block, and a hat. You can wear shorts and sandals are OK. I supply all note-taking equipment. It's good to be prepared for rain since DBT do come out on days when there are showers followed by sun. There are mosquitoes and "no-see-ums" especially around dawn and dusk, so you might want to bring your favorite bug repellant.



Communication: I can't stay on top of phone calls all the time, but I can do emails and Facebook. If you haven't already, you can join us at the Facebook group Jamaica Bay Terrapin Research and Conservation. You can always email me (biorlb@hofstra.edu). And you can always leave messages on the DBT phone (646.415.2074).



Read more about Dr. Burke's work.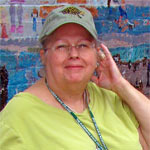 Lorri Cramer: Building Good Turtle Karma


"Lorri Cramer [NYTTS Director of Turtle Rehabilitation and Curriculum Development] has been building good turtle karma for a long time." So begins an article explaining how Lorri developed her expertise rehabilitating turtles over some 33 years—over 1,000 for NYTTS. A recurring problem Lorri encountered was that numbers of turtles were being released in inappropriate places, many times jeopardizing their survival. The releases were traced to Chinese Buddhist Life Release ceremonies. After numerous letters to temples, Lorri eventually made successful contact with a respected member of the New York Chinese Buddhist community. Read how Lorri and a Buddhist temple in Chinatown have joined forces to help solve the problem. See Building Good Karma: The Buddhist Ceremony of Releasing Turtles. See also Environmentally Friendly Buddhist Release Practices, an article for NYTTS by Lorri Cramer in 2012.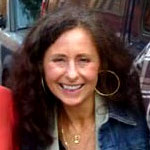 Excellent Advice from Barbara Daddario
on Turtles and Tortloises as Pets


Our own Barbara Daddario, Chair of the NYTTS Public Education and Information Committee, was recently interviewed by VetSteeet.com (a Web site devoted to advice for pet owners, finding veterinary care, and pet news). Read Barbara's advice in Tempted to Get a Pet Turtle or Tortoise? Read This First, by Linda Lombardi, March 27, 2014.



| | |
| --- | --- |
| | Photo by Frank Indiviglio |

Frank Indiviglio Presentation


Sunday, February 9, 2014, the Arsenal Gallery, Central Park, New York City



Veteran Zoo Keeper Frank Indiviglio gave a talk on "Large, Rare, and Unusual Species of Turtles in Captivity," relating many of his experiences as a keeper at the Bronx Zoo and the Staten Island Zoo.



Frank's frequent charge is his six-year-old nephew, Haiden, who often accompanies him on field trips. Haiden is well on his way to becoming a herpetologist.



Frank with giant mata-mata
(Chelus fimbriata)
"That Reptile Blog" by Frank Indiviglio


Frank Indiviglio, former Staten Island Zoo and Bronx Zoo keeper, and long-time friend of NYTTS, writes numerous articles for That Pet Place, especially for That Reptile Blog as well as others.



Read Frank's latest posts:


The Common Musk Turtle or Stinkpot – My Choice for Perfect Pet Turtle

Musk and Mud Turtles – Introducing Five Interesting Species

The Best Small Turtle Pets for Reptile Enthusiasts with Limited Space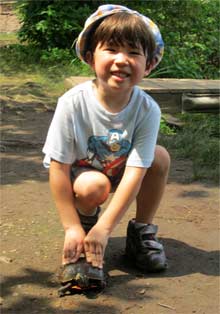 Frank's 4-year-old nephew Haiden with an eastern painted turtle found in a swampy area in Tenafly, New Jer­sey. See Haiden with a snapping turtle.




See the Index of Frank's Blog articles.

Recommended article:



Commercial Foods: Benefits/Uses, Staples/Supplements from theTurtleRoom.




The Plight of Frogs and the Impact of the Frog Leg Trade
In the USA alone 1.1 billion frogs and in the European Union 2.3 billion frogs are imported for the frog leg trade every year. How long can this level of exploitation be sustained? Read Frank's shocking article: Frog Leg Trade Kills Billions of Frogs Annually and Threatens Species' Survival.




Populations worldwide are in serious decline. NYTTS salutes
Dr. Kerry Kriger and Save the Frogs for its vital conservation work.


---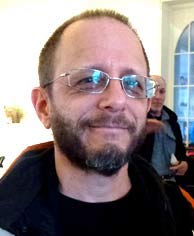 Galápagos Trip Planned for NYTTS Members
Led by Prof. Russell Burke



Dr. Russell Burke, Hofstra University (and speaker at this year's Annual NYTTS Seminar), is interested in organizing a trip for NYTTS members to the Galápagos Islands in January 2015. He has led five previous group tours to the Enchanted Islands, and he promises us a trip we will never forget!



This would be a land-based tour, with nights spent in local hotels, and day trips touring San Cristobel, Santa Cruz, Isabela Islands, and others to see plenty of tortoises, sea turtles, land iguanas, marine iguanas, sea lions, and wonderful birds. Included would be 3–4 days in the Santa Cruz highlands where we can conduct citizen science research projects on Galápagos tortoises. Of course, there will be snorkeling to see marine iguanas, penguins, sharks, sea lions, and other marine life.



Currently, we want to determine how many people would be realistically interested. The trip would be approximately 14 days in January 2015, with a total trip cost somewhere around $3,700, which is a very competitive price. If you're interested, please e-mail Russell at biorlb@hofstra.edu.
---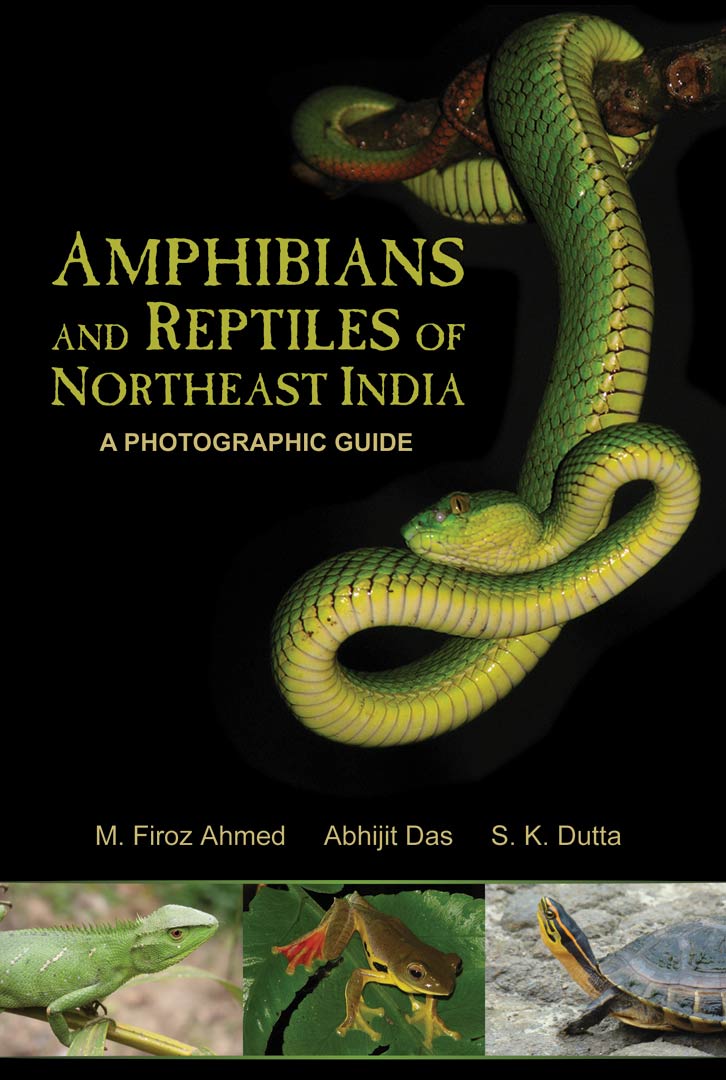 Newest Book Offering from NYTTS:

Amphibians and Reptiles of Northeast India: A Photographic Guide
by M. Firoz Ahmed, Abhijit Das, and S.K. Dutta


Firoz Ahmed, who spoke at the NYTTS meeting on February 10, 2013, has made his excellent field guide available for $18 postpaid. He continues his research on reptiles and amphibians in the region, and all proceeds from the book will be allocated for the next edition of the guide.



The guide measures 4¾" by 7" (large enough to show the color photos of each species clearly but small enough to be carried easily in the field), softcover with 170 pages; © 2009 Aaranyak, India.



Please allow several weeks for our shipment to arrive from India. Go to order form.


Preview sample inside pages. Click images to enlarge.


---


Order Online! — NYTTS bumper stickers and turtle food (Turtle Brittle and AquaMax) can now be ordered online. Payment by credit card through PayPal, or by check. Go to the NYTTS Online Order Form. T-shirts coming soon!


---
Notice to New York City Residents


The New York State Department of Environmental Conservation now has a 24-hour tips line to report violations of protected species regulations. It is prohibited to sell any New York State species of reptiles and amphibians. If you see any New York species for sale in pet shops or markets, please call 1-800-847-7332. Report the name and address of the business, and the animals you observed for sale.

Turtle Care Video from the Mid-Atlantic Turtle & Tortoise Society

NYTTS Red-eared Slider Adoption Policy



Unfortunately, we no longer have local homes for these turtles because of the high numbers that have come to us in recent years. We sometimes have members with ponds who may offer to take in displaced sliders. We do not accept postings by individuals for adoptions of any species. All adoptions are handled through official NYTTS channels, and notices will be emailed to members at the discretion of our Board. Those members wishing to place turtles or to be considered as prospective adopters of sliders and other species should email QandA@nytts.org with their contact information and the species they are interested in placing or adopting. Photos of their turtle/tortoise habitats and accommodations should be provided. Photos of turtles to be placed should also be provided.



For more information on the status of red-eared sliders, see Sliders, Siders, Everywhere.


---
Recent NYTTS Meetings and Regional Turtle News
Josephine Arnold, a long-time member and familiar face at the Annual Turtle and Tortoise Shows, passed away suddenly on Sunday, April 14, 2013. See memorial page.
Alex Ypsilanti, long-time member and NYTTS Board member, passed away after a long and brave battle with cancer on Saturday, April 6, 2013. See memorial page.
Seminar 2013 — the 28th NYTTS Annual Seminar, was held in the Arsenal Gallery in Central Park, New York City, on March 9, 2013. Featured speakers included Professor Russell Burke, sea turtle author Jack Rudloe, and Chelonian Institute Director Peter C.H. Pritchard. See photos from this meeting and review speakers and presentations.
NYTTS Joins Buddhist Leaders to Encourage Humane and Environmentally Friendly Practices — The NYTTS Rehabilitation Program is collaborating with local Buddhist leaders to encourage the "New Compassionate Release Life Practice" and to support humane and environmentally friendly practices toward turtles and other animals. See Environmentally Friendly Buddhist Release Practices by Lorri Cramer, Director, NYTTS Turtle Rehabilitation Program (July 2012).
In Memory of Don Riemer— Long-time friend of NYTTS and contributing author to its publications in the 1980s and 90s, Donald N. Riemer, 78, died of cardiac arrest on June 13, 2012. He was a professor at Rutgers University where he conducted research and taught courses related to aquatic plants. See memorial and obituary.
38th Annual Turtle and Tortoise Show, June 2, 2012 — See Winners' List.
"Turtles of Central Park" Urban Safari Walk, May 12, 2012 — See slide show and video of the walk.
Urban Wildlife Apprciation Day 2012 — On Saturday, May 5, 2012, NYTTS participated for the third year in Urban Wildlife Appreciation Day, held this year in Inwood Hill Park at the top of Manhattan along the Harlem River. See slide show of the event.
Fish and Turtle Rescue in Prospect Park, Brooklyn — For a second time NYTTS members particpated in the Fish and Rescue project in Prospect Park. See description and photo slide show.
Seminar 2012 — the 27th NYTTS Annual Seminar, was held in the Arsenal Gallery in Central Park, New York City, on March 10, 2012. Featured speakers included naturalist-artist David M. Carroll, U.S. Fish and Wildlife Bog Turtle Recovery Program Coordinator Alison Whitlock, and Chelonian Institute Director Peter C.H. Pritchard. See photos from this meeting and review speakers and presentations.
Snapper Found in February — Frank Indiviglio and his 4-year-old nephew Haiden discovered a large snapping turtle in Alpine, New Jersey, in February. See Snapper Active in February.

NYTTS Member Matt Hybel Hatches 47 Asian Brown Tortoises! See story and photos.
Remembering Stephanie Thompson ~ July 26, 2011 — Read "Stephanie Thompson — An Appreciation" by Michael Sherwin, a longtime friend and early NYTTS member, as well as a slide show of snapshots.
37th Annual Turtle and Tortoise Show, June 4, 2011 — See Winners' List.
Bern Tryon, Well-known Bog Turtle Scientist, Dies, May 6, 2011 — See obituaries.
Urban Wildlife Apprciation Day 2011 — On Saturday, April 7, 2011, NYTTS participated for the second year in the New York City Urban Wildlife Appreciation Day, held on the Cloisters Lawn in Fort Tryon Park. See slide show of the event.
Seminar 2011 — the 26th NYTTS Annual Seminar, was held in the Arsenal Gallery in Central Park, New York City. Review speakers and presentations.
Papa Tortuga at NYTTS — On February 13, Fernando, affectionately known as "Papa Tortuga" (Father Turtle), and his team from the Tecolutla Turtle Preservation Project, presented a documentary and lecture on Fernando's many years of work protecting nests and hatchlings. See more of Papa Tortuga at NYTTS.
Remembering JoAnn Vacchiano — Longtime NYTTS member and devoted turtle person JoAnn Vachiano passed away on January 20, 2011. See photo and remembrances.
36th Annual Turtle and Tortoise Show, June 12, 2010 — See Winners' List and Photos.
Urban Wildlife Apprciation Day — On , Saturday, April 10, 2010, NYTTS staffed a table with turtles and information for the public at the New York City Urban Wildlife Appreciation Day, held on the Cloisters Lawn in Fort Tryon Park. See slide show of the event.
In Memoriam: John Thorbjarnarson, well-known Wildlife Conservation Society herpetologist, died of malaria in India on February 14, 2010. See A Life in Conservation by Chuck Schaffer.
Fish and Turtle Rescue in Propect Park — In November 2009, NYTTS volunteers joined the Natural Resounces Crew in Prospect Park, Brooklyn, in their fish and turtle rescue project while a small portion of the northeast end of Prospect Park Lake was drained by the Parks Department in preparation for reconstruction of the shoreline. See more information and slides of that effort.
Florida Turtle Tour: Topic of November 1st (2009) meeting: — NYTTS members who participated in turtle biologist George Heinrich's Florida Turtles Natural History Tour the previous summer shared their experience with slides and stories. See more information and a slide show of the 2009 summer tour.
---
The Asian Turtle Crisis: An Update — Two videos taken 13 years apart show that little changed in the markets in Guangzhou, China, from 1997 to 2009. Compare the videos.
---
Clarifying Regulations in New York State for all Native Species: The New York State Department of Environmental Conservation now requires a permit to keep any species of reptile and amphibian native to New York State. This includes all twelve species of New York turtles. The mechanism by which owners of New York turtles may acquire permits is being investigated. Read and download an overview of the new regulations.
---
Membership

Membership in the New York Turtle and Tortoise Society is open to all interested persons for an annual fee of $25. Your membership helps support the Society's activities and programs, including Rescue/Rehab and Public Education, as well as meetings and lectures. Go to Membership Registration Form.

Donations to the New York Turtle and Tortoise Society are tax deductible and can be made online with your credit card by clicking the Donate button, or by sending a check payable to NYTTS, to NYTTS Donations, 1214 W. Boston Post Road, Box 267, Mamaroneck, NY 10543.

NYTTS Mailing List. If you wish to be added to our mailing list, please submit your e-mail address. Those who subsribed to the NYTTS Yahoo Group have been added to the main NYTTS Mailing List. If you wish to remove your address from our list, please write Webmaster.
Questions? Send your inquiries to the appropriate committee chair: