| | |
| --- | --- |
| Spring 2016 Meetings | |


Next NYTTS Meeting — Michael Musnick and John Foley
Sunday, April 3, 2:00 p.m.
Church of St. Paul and St. Andrew
West 86th Street and West End Avenue in Manhattan
Download flier for this event (PDF)



"Wood and Box Turtle Study in the Patterson Great Swamp"
by Michael Musnick and John Foley

| | | |
| --- | --- | --- |
| Michael Musnick holds a wood turtle from his study site. | John Foley with radio-tracking antenna and wood turtle | |


Long-time NYTTS member and citizen scientist Michael Musnick has spent the last 14 years studying wood and box tur­tles, and this is his 11th season follow­ing them with radio tracking equipment. His main interest has been to determine where they hibernate, estivate and nest. He has monitored their yearly survival, and nesting site fidelity, repro­ductive fitness of females, with special focus on juveniles as indicators of recruit­ment. He has examined reasons for mor­tality and has made efforts to stem that loss.

Co-presenting this talk will be John Foley, also a member of NYTTS, who has worked closely with Michael on this study for the last seven years and has shared responsibility for collecting the data on wood, box, and bog turtles. John is cur­rently head naturalist at Great Hollow Nature Preserve, an 825 acre wildlife sanctuary in Fairfield County, Connect­icut. He has also worked with the Con­necticut Department of Energy and Environmental Protection.

NYTTS has found a new meeting place. The Church of St. Paul and St. Andrew is an open and affirm­ing congregation that hosts a number of social service and performing arts programs. Lo­cated on the Upper West Side of Manhattan, it is just steps from the 86th Street subway station on the No. 1 train (Broadway line). Please use side entrance on 86th Street. See photos below:


| | |
| --- | --- |
| View from corner of Broadway and West 86th Street looking west. Note subway station in the right foreground and church tower beyond. | Farther west on West 86th Street, approaching side entrance (behind tree) to the Church of St. Paul and St. Andrew |



Annual Urban Wildlife Appreciation Day
Inwood Hill Park, Saturday, May 7, 2016, 10:00 a.m.
Mark Your Calendar!


New York City is home to an amazing abundance of wildlife. From fal­cons and salamanders to deer and seals (and of course, turtles), wildlife viewing opportunities exist year-round in all of our parks and beaches. Urban Wildlife Appreciation Day is spon­sored by the NYC Department of Parks & Recreation and the Urban Park Rangers.



NYTTS will participate for the seventh year in this event. Exhibits will include squirrels, raccoons, coyotes, skunks, eagles, live birds of prey, and turtles provided by NYTTS. Join us and even volunteer to talk about turtles to the public!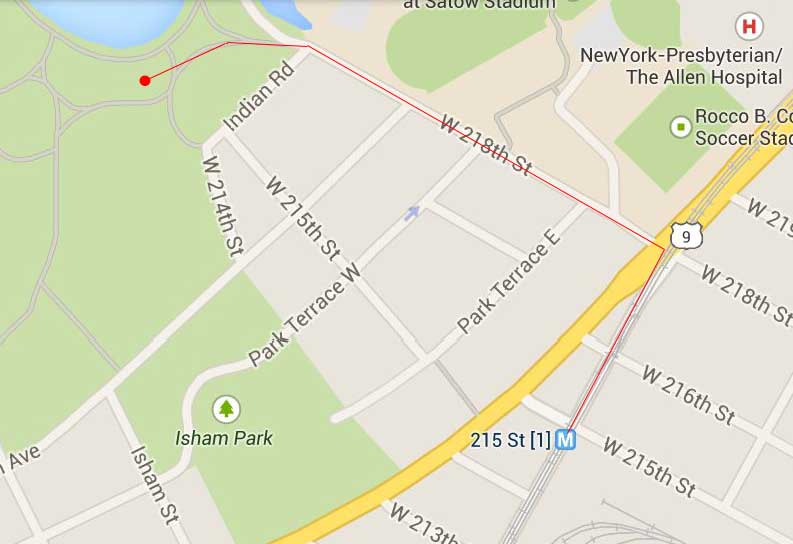 By subway, take the No. 1 train to 215th Street and walk up to 218th then left (west) to the park. Click thumbnail map to enlarge. For questions, write info@nytts.org.



To print map, right-click on the en­larged image and select Print or Save image as....





Annual Turtle and Tortoise Seminar
Held Saturday, October 24, 2015
Sarah Lawrence College Center for the Urban River at Beczak
35 Alexander St, Yonkers, NY 10701
See photos and abstracts



Review previous meetings in 2014–2015.


Review previous meetings in 2013–2014.


Review previous meetings in 2012–2013.