NYTTS 2005 Turtle and Tortoise Show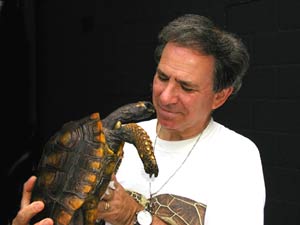 Best In Show — Trophy


Allen P.W. Karen, Argentine chaco tortoise, Geochelone chilensis


First Place — Blue Ribbons (* runners up)


*Brian and Dylan Blecher, 3 Ryuku leaf lurtle, Geoemyda japonica
*Diane Petrillo Greene, pair: Home's hingeback tortoises, Kinixys homeana; spur-thighed tortoise, Testudo graeca
*Michael Musnick, 6 Asian leaf turtles, Geoemyda spengleri; Chinese box turtle, Cuora flavomarginata
*Frank Schneider, 2 leopard tortoises, Geolchelone pardalis babcocki; central Asian tortoise, Testudo horsfieldii; big-headed turtle, Platysternum megacephalum; 2 common spider tortoises, Pyxis arachnoides; Egyptian tortoise, Testudo kleinmanni
Peter Brynildson, 2 spur-thighed tortoises, Testudo graeca
Kay Martin, 2 red-cheeked mud turtles, Kiinosternon scorpoides cruentatum; 2 Chinese box turtles, Cuora flavomarginata
Conor O'Malley, red-footed tortoise, Geochelone carbonaria
Sara Ramos, African spurred tortoise, Geochelone sulcata; yellow-footed tortoise, Geochelone denticulata
Barbara Reader, river cooter, Pseudemys concinna
Christine Santoro, common cooter, Pseudemys floridana
Bob Seaver, 2 Chinese box turtles, Cuora flavomarginata
Michael Sherwin, group: Asian leaf turtle, Cyclemys dentata; spotted turtle, Clemmys guttata; Malayan box turtle, Cuora amboinensis; Chinese box turtle, Cuora flavomarginata; four-eyed turtle, Sacalia quadriocellata; red-eared slider, Trachemys scripta elegans
Sara Stehn, 2 Florida red-bellied turtles Pseudemys nelsoni
JoAnn Vacchiano, Reeves' turtle, Emys reevesii; red-footed tortoise, Geochelone carbonaria
Nina Sherwin, common snapping turtle, Chelydra serpentina

Second Place — Red Ribbons

Lesley Brunelle & John McQuillan, red-eared slider, Trachemys scripta elegans
Karrie Chen, helmeted turtle, Pelomedusa subrufa
Anika Chowdhury, red-eared slider, Trachemys scripta elegans
Liz Crisonino, 4 red-eared sliders, Trachemys scripta elegans
Janice Glock-Jones, Malayan box turtle, Cuora amboinesis
Rhea Greenberg, Malayan box turtle, Cuora amboinesis
Sheri Greenspan, Central Asian (Horsfield's) tortoise, Testudo horsfieldi; Chinese three-keeled pond turtle (Reeve's turtle), Chinemys reevesii; and Malayan box turtle, Cuora amboinesis
Sara Ramos, Chinese three-keeled pond turtle (Reeve's turtle), Chinemys reevesii
Randye Wolf, Malayan box turtle, Cuora amboinesis

Third Place — White Ribbons

Josephine Arnold, spur-thighed tortoise, Testudo graeca
Peter Brynildsen, 3 eastern box turtles, Terrapena carolina
Diane Petrillo Greene, eastern painted turtle, Chrysemys picta picta
Diane Petrillo Greene, spur-thighed tortoise, Testudo graeca; leopard tortoise, Geochelone pardalis babcocki
Kay Martin, 2 red-footed tortoises, Geochelone carbonaria; river cooter, Pseudemys concinna; red-eared slider, Trachemys scripta elegans
Conor O'Malley, red-eared slider, Trachemys scripta elegans
* Note: Ribbons may be awarded to a group of turtles,
such as a breeding pair with hatchlings or to a member's
collection of mixed species, when merited.

NYTTS thanks Show Judge Dr. Bill McCord — Judge for the Turtle and Tortoise Show 2004!
The 2005 Photo Galleries are under construction.