The New York Turtle and Tortoise Society
The Legendary Turtle of Hoan Kiem Lake, Honoi, Vietnam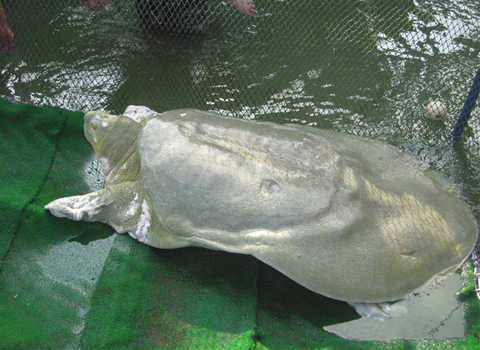 Latest Update: Vietnam's Legendary Turtle
Returned to Hanoi Lake



For three months after its capture (see video below), the giant softshelled turtle of Hanoi's Hoan Kiem Lake underwent extensive treatment and rehabilitation. After a remarkable recovery, the turtle was released back into the lake in early June (a much healthier animal shown here before release). During that period the severely polluted lake was drained and cleaned.



Photo: VNExpress online

For a complete report on the monumental efforts to capture and rehabilitate this turtle over the past several months, see the Asian Turtle Program Web site.

---
Vietnam Finally Nets Legendary Turtle For Treatment


Dozens of rescuers in Hanoi captured the legendary giant turtle for medical treatment on Sunday, April 3rd. The turtle of Hoan Kiem Lake is becoming one of the most famous turtles in the world, perhaps equaling Lonesome George. The above Reuters video shows the capture team efforts, and the photo on the right shows a member of the rescue team with the turtle after it was successfully captured in Hanoi's Hoan Kiem Lake (Photo: Hoang Long/Dai Doan Ket Newspaper). See full story and view slide show. See also Hoan Kiem turtle fished out for treatment (includes many photos of the capture).

Good news for Hoan Kiem Turtle one month later! See latest update (July 5, 2011): Hoan Kiem turtle free from fungal diseases.

More:
---