Lorri Cramer, NYTTS Turtle Rehab Director; Ven. Jingyi and Ven. Benkong, Grace Gratitude Buddhist Temple; and Dr. Russell Burke, Jamaica Bay Diamondback Conservation Project Director, at the Jamaica Bay Wildlife Refuge.

Photo by Joan Wai
Environmentally Friendly Buddhist Release Practices


This article has been translated into Czech:
www.pkwteile.de/wissen/new-york-zelva-a-zelva-spolecnost.



The NYTTS Rehabilitation Program is very excited to be collaborating with local Buddhist leaders to encourage the "New Compassionate Release Life Practice" and to support humane and environmentally friendly practices toward turtles and other animals.



"Release Life" is a traditional Buddhist ceremony during which animals are saved (often from food markets), are blessed, and then released into the wild. It is believed that in saving animals destined to die, the participants will receive good karma. While the animals can be of any species, turtles are frequently released because they live longer lives than many animals.



The wonderful intentions of this practice, however, do not always translate well in our changing world. Release Life, as practiced originally in China, used animals bought from neighborhood markets that had been collected locally. When the animals were released back into the local area, they had a much better chance of surviving and did not adversely affect the environment. However, the animals released in New York City now come from greater distances, often from other states and sometimes even other countries. Besides being illegal to release any animal into the wild, the turtles released have often been non-native species, which not only compete with native wildlife for food and space but also increase opportunities for the introduction of exotic diseases.



Over the past few decades the NYTTS Rehabilitation Program has struggled financially and logistically to care for the high influx of turtles resulting from the previous Release Life Ceremony. Our Rehab Program has rescued freshwater turtles from the ocean; diamondback terrapins, a brackish species, from park lakes; and red-eared sliders released into areas with no water at all. Without intervention on our part, the turtles would very often die a slow, painful death in inappropriate environments. I have searched for ways to make people more aware of these problems without much success.



In 2010 NYTTS was approached by leaders in the Buddhist community who have come to realize that with a changing world, the Release Life Ceremony needed to be updated in a way that would maintain the original religious ideals but would also take into account the practices of modern food markets and of current conservation issues.



Elders in the Buddhist community and a small group of New York State wildlife rehabilitators started a pilot program, named "Compassionate Release Life." Later, the Humane Society joined us by supplying funding for transportation.



In the new Compassionate Release Life practice, no animals are bought at the food markets. The Buddhist group, instead, blessed and helped release turtles that had been in rehabilitation programs due to illness or injury.



In 2011, I attended a very moving Compassionate Release Life Ceremony in Westchester County. Buddhist monks, nuns, and members of their congregation blessed and chanted prayers for a group of at least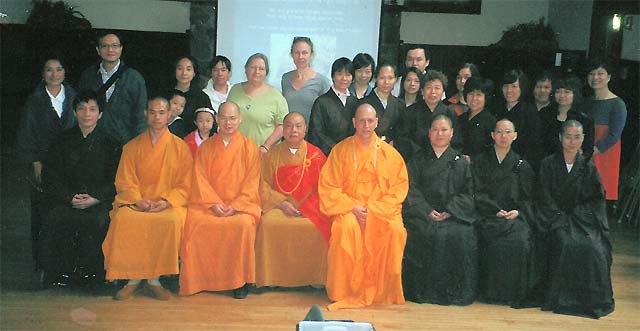 Westchester County Buddhist congregation holds a Compassionate Release Life Ceremony.

two dozen assorted turtles that had spent time with state rehabilitators. After the ceremony the group presented the center with a generous donation to be used to continue to further rehabilitation work.



I am happy to report that since then there have been more ceremonies and that we have been instrumental in involving other rehabilitators and helping to arrange other locations where the Buddhists can perform Compassionate Release Life Ceremonies with assorted rehabbed animals.



A ceremony at the Wild Bird Fund here in New York will be held later this summer, and in September a busload of young people from Chinatown will take part in a Compassionate Release Life ceremony at Jamaica Bay Wildlife Refuge. At that time the Diamondback Terrapin Study, which has been protecting nests from predation, will be releasing new hatchling diamondbacks into Jamaica Bay.



I feel honored to be included in this project where wildlife rehabilitators and members of the Buddhist community have found a way to work together. We can help to continue an important Buddhist ceremony while also helping the turtles, the rehabilitators and the environment. Our hope is that eventually this practice will spread to other locations, cities, and perhaps even other countries.


—Lorri Cramer, 2012
Director, NYTTS Turtle Rehabilitation Program
See Compassionate Release Life: A Conservation-Focused Alternative to the Buddhist Release Life Practice (PDF) from the Year of the Turtle News.

Download entire issue of the Year of the Turtle News (PDF).
---
"Compassionate Release" of Hatchling Turtles


The NYTTS Rehabilitation Program, directed by Lorri Cramer, is very excited to continue its collaboration with local Buddhist leaders to encourage the "New Compassionate Release Life Practice" and to support humane and environ­mentally friendly practices toward turtles and other animals. Slowly this project, which started in 2011, is increasing in participation and scope.



On Saturday October 11, 2014, five NYTTS members—Christopher, Lauren and Ed Cho; Abby, Lorri and Mitch Cramer; Suzanne Dohm; and Jim Van Abbema—attended a sacred Buddhist "Compassionate Release Life" ceremony at the Jamaica Bay Wildlife Refuge Visitor Center. During the ceremony hatchling diamondback terrapins that had been saved from predation were blessed and then released into the wild. Because of rain, the blessing took place inside the Visitor Center where we were quite comfortable.



The day started in the classroom with Dr. Russell Burke who gave a PowerPoint presentation, which highlighted his work to help the diamondbacks of Jamaica Bay and the problems they are facing.



The blessing was held in the atrium of the Visitor Center where the Ven­erable Jing Yi, Abbess of Grace Gratitude Buddhist Temple, formed a prayer circle with the congre­gants, facing the large windows that looked out onto the wetlands. The tiny turtles were placed in a small container at the center while Ven. Jing Yi and the other congre­gants led the Com­passionate Release Life prayers and chants. (Photo: Mitch Cramer)
While only six baby dia­mondbacks were being re­leased, Ven. Jing Yi said that the blessings were also for all the other animals in the Wildlife Refuge.



After the ceremony, the rain stopped and we all streamed into the refuge to celebrate the release of the tiny tur­tles. Cameras clicked away as one by one each hatch­ling was released, each car­rying the blessing and good wishes for a long and healthy life.



For the complete story, see "Karma on the Half Shell" by Eveline Chao.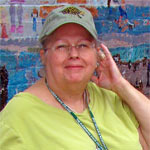 Lorri Cramer: Building Good Turtle Karma


"Lorri Cramer, NYTTS Director of Turtle Rehabilitation and Curriculum Development, has been building good turtle karma for a long time." So begins an article explaining how Lorri developed her expertise rehabilitating turtles over some 33 years—over 1,000 for NYTTS. A recurring problem Lorri encountered was that numbers of turtles were being released in inappropriate places, many times jeopardizing their survival. The releases were traced to Chinese Buddhist Life Release ceremonies. After numerous letters to temples, Lorri eventually made successful contact with a respected member of the New York Chinese Buddhist community. Read how Lorri and a Buddhist temple in Chinatown have joined forces to help solve the problem. See Building Good Karma: The Buddhist Ceremony of Releasing Turtles.