The Impact of Commercial Crab Traps
on Northern Diamondback Terrapins, Malaclemys terrapin terrapin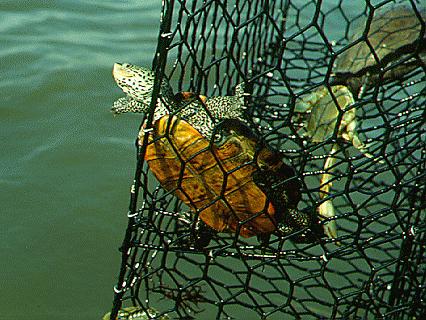 Northern diamondback terrapin in commercial crab trap.
ROGER CONANT WOOD
Faculty of Science and Mathematics, Richard Stockton College, Pomona, NJ 08240, USA



The Wetlands Institute, 1075 Stone Harbor Blvd., Stone Harbor, NJ 08247, USA
e-mail: roger@wetlandsinstitute.org
ABSTRACT: Commercial crab traps are widely used throughout the range of diamondback terrapins (i.e., salt marshes along the Atlantic and Gulf coasts of the United States). Experiments on the Cape May Peninsula in southernmost New Jersey and elsewhere show that crab traps catch significant numbers of terrapins of both sexes, including both juveniles and adults. Unfortunately, a substantial proportion of these terrapins drown before the traps are pulled for the daily crab harvest. Conservative estimates project that tens of thousands are inadvertently killed in this manner annually along the New Jersey coast alone. It is likely that considerably larger numbers of terrapins are killed throughout this speciesí range every year.
During summer 1992 a rectangular wire excluder device was fitted into the inner (narrow) end of entrance funnels in typical commercial crab traps. This device, known as the "Bycatch Reduction Apparatus" (or BRA), was designed to prohibit the entry of most terrapins, yet not impair the number or size of crabs caught. Preliminary results of this pilot study and of subsequent large-scale experiments have been encouraging. Not only have the excluder rectangles greatly reduced the number of terrapins caught in modified traps, but they have also actually increased the crab catch over unmodified traps of standard design. Results of this research make prospects for the widespread adoption of terrapin excluder devices seem highly favorable.
Threats to Habitat | Contents Summary | Author Index and Citations | Home Page