Turtle Conservation in Myanmar:
Past, Present, and Future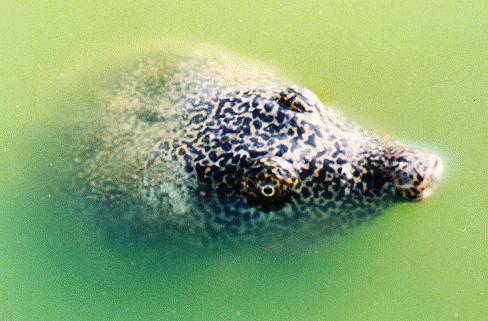 Head of adult Nilssonia formosa softshell, photographed in the pond of the Maha Myat Muni temple in Mandalay.
PETER PAUL VAN DIJK
Department of Biology, Faculty of Science, Chulalongkorn University, Bangkok 10330, Thailand

Current address: Director, Tortoise and Freshwater Turtle Conservation Program,
Center for Applied Biodiversity Science, Conservation International,
1919 M Street, NW Suite 600, Washington, DC 20036, USA / e-mail: ppvandijk@hotmail.com
ABSTRACT: Old, fragmentary observations are still the main source of information on occurrence and distribution of turtles in Myanmar. These old data and some recently collected status information indicate that populations of many turtle species have declined substantially. Several of these species are endemic to Myanmar. Causes of such decline include destruction of habitat, collection of eggs and adults for consumption, and incidental capture. To ensure survival of turtle populations will require collection and analysis of updated distribution and status information for the various species, upgraded legal protection, and immediate practical conservation projects for the priority species.