November 1997 — A remarkable group of ecologists, conservationists, land managers, governmental officials, and policy makers representing 25 nations gathered in July 1993 at Purchase, New York, to attend a conference devoted to the conservation, restoration, and management of tortoises and turtles. Offering just a glimpse of the troubled conservation status of the world's 270-plus species of tortoises and turtles, the 80 papers and summary reports (as well as abstracts of presented posters) included in the proceedings represent the combined effort of more than 130 authors and 35 reviewers.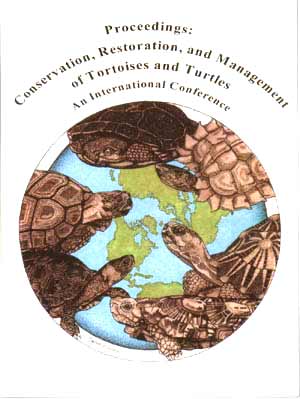 In the four years since the gathering of the 230 delegates and attendees at Purchase, this volume became more than simply documentation of that event. Nearly all of the 82 papers presented at the conference were submitted for inclusion in the proceedings, most were subsequently updated by the authors to reflect current field data wherever possible, and all were peer reviewed.
The material in this 494-page volume is organized by the major subject areas presented at the 1993 conference and roughly corresponds to the daily sessions of the meeting: Direct and Indirect Threats to Habitat; Direct Losses to Populations — Disease, Predation, and Human Exploitation; Breeding, Repatriation, and Relocation; Applications of Demography, Ecology, and Genetics to Conservation; Status Reports; Species Recovery and Management Strategies; Reserves and Programs; and Integrated Management Strategies and Public Policy. Abstracts of the presented posters appear in a separate section.
Of the conference and the proceedings volume, Peter C. H. Pritchard, author of the Encyclopedia of Turtles, makes the following observations:
"Four years have passed since the epochal turtle conservation conference at the State University of New York in Purchase in July 1993. Since that time, as John Behler has observed, the moniker 'Purchase' has entered the lexicon of cheloniology as a major event of lasting impact. It was my honor, as an officer of the Chelonia Institute, to be intimately involved with the editorial process that led to the published proceedings of the conference, and in the process I was struck by several things: the extraordinary quality of the individual contributions, the improvements and enhancements of scope that took place between the verbal presentations and the final written submissions, the prodigious volume of editorial effort necessary to bring the mass of contributions into a coherent single volume, and the truly global and impressively interdisciplinary nature of the entire effort. Together, the papers in this volume lay the groundwork for what one might call a theoretical basis for the science of chelonian conservation, an exercise that has never been attempted before."