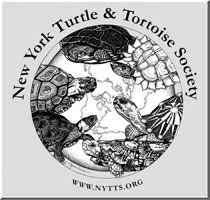 The New York Turtle and Tortoise Society presents


Seminar 2015



Saturday, October 24, 2015
Check-in 9:30 a.m.; Sessions 10:00 a.m.–5:00 p.m.



Sarah Lawrence College Center for the Urban River at Beczak
35 Alexander Street, Yonkers, New York 10701



Speakers at Seminar 2015 — Theodora Pinou, Ben Atkinson, Britney Murphy, Danielle Taylor-Lang, and Nichole Shelmidine

Photo by Anita Salzberg


Program

Morning Session (
10:00 a.m.–12:00 a.m.
)

Welcome and Announcements
---
Nichole Shelmidine,1 Brittany Murphy,2 and Danielle Taylor-Lang3

1
Animal Supervisor, WCS/Prospect Park Zoo
2
Senior Wild Animal Keeper, WCS/Prospect Park Zoo
3
Wild Animal Keeper, WCS/Prospect Park Zoo

"Husbandry and Propagation of the Chinese Big-Headed Turtle
(Platysternon megacephalum) at the Wildlife Conservation Society's Prospect Park Zoo"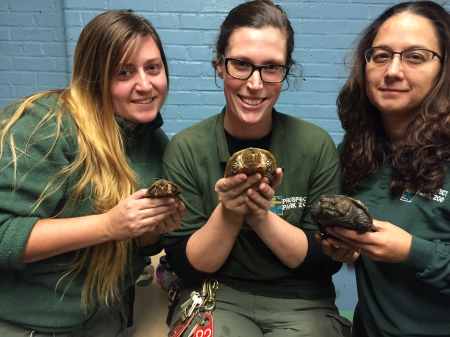 Danielle Taylor-Lang, Brittany Murphy, and Nichole Shelmidine

The Chinese big-headed turtle (Platysternon me­gacephalum) is currently listed on the IUCN Red List of Threatened Species as Endangered and on CITES Appendix II. In 2008, as part of the Wild­life Conservation Society's initiative on turtle and tortoise conservation, this species became a focus for propagation at the Prospect Park Zoo. To sim­ulate seasonal changes, water and ambient tem­peratures along with photoperiod were appropri­ately fluctuated. With our single breeding pair, we have obtained eggs for four consecutive years (2012–2015), and have had successful hatchings in 2013 and 2014. The current year's clutch is still incubating and will hatch sometime in November. This presentation will share the team's experi­ences working with P. megacephalum as well as review previous publications and successes. Our hope is that continued efforts to increase the knowledge base and sharing of information will result in a viable, sustainable captive population for this species



Nichole Shelmidine is currently the Supervisor of Animals at the Prospect Park Zoo. She has a B.S. in Zoology and a Master's in Anthropology. In 2008 she began an initiative to advance the husbandry and propagation techniques for this species which in 2013 finally culminated into the first successful hatching within an AZA zoological institution.



Brittany Murphy graduated from Loyola University in Maryland with a B.S. in Biology. In 2012, Brittany was hired at the Prospect Park Zoo as a Wild Animal Keeper and joined the turtle team, helping to obtain PPZ's first clutch of Chinese bigheaded turtle eggs. Brittany is now a Senior Wild Animal Keeper and the co-project coordinator for this endeavor.



Danielle Taylor-Lang graduated from Nova Southeastern University, Florida, in 2010 with a B.S in Marine Biology. She worked at Turtle Back Zoo in New Jersey as an Animal Keeper before joining the WCS team in 2014. Currently, Danielle is a valued member of the Chinese big-headed turtle propagation program where her main focus is incubation and hatchling care.


— Lunch —

Afternoon Session (2:00–5:00 p.m.)



Theodora Pinou
Professor, Department of Biological and Environmental Sciences
Curator, H. G. Dowling Herpetological Collection
Western Connecticut State University

"Uncovering Marine Biodiversity
Through Sea Turtle Conservation"


Dr. Pinou will discuss her sea turtle research program in Costa Rica, Mexico, and Florida, and introduce some of the biogeographical and taxonomic contributions she has made through this work. In addtion, she will explain how this new information is shaping sea turtle biology, conservation, and research on marine ecosystem health.



Theodora Pinou was born and raised in Washington Heights, New York City. Dora was fortunate to be accepted into The Bronx High School of Science and then entered New York University where she completed her bachelors, masters, and doctoral degrees. After com­pleting her Ph.D. in 1993 at New York University with Herndon G. Dowling, she went on to a post doc at Yale University in the Department of Ecology and Evolutionary Biology. Dora is a Curatorial Affiliate in Vertebrate Zoology at the Yale Peabody Museum of Natural History. She is interested in the biology and conservation of reptiles, and in developing methods of teaching science that increase learning moti­vation by diverse learners. She continues to inspire young minds to consider the conservation and management of biological resources through Project Migration and Finding Our Way, two funded programs that bring together community stakeholders to find ways to respect the environment.


---
| | |
| --- | --- |
| Ghost trap recovery fieldwork: abandoned crab traps (called "ghost traps") continue to catch aquatic wildlife indefinitely. Here Ben Atkinson rescues a cold (but lucky) blue crab from a ghost trap; it was measured and released. | |
Ben Atkinson
Visiting Assistant Professor, Department of Natural Sciences
Flagler College, St. Augustine, Florida

"Muddy Boats and Dusty Bones: Piecing Together the
Story of Ghost Traps and Diamond-backed Terrapins"


Ghost traps are lost or abandoned fishing gear that continue to cap­ture aquatic wildlife, causing cryptic mortality. An estimated 25–30 percent of all fished blue crab traps become ghost traps. Self-baiting, these may persist for years, "ghost fishing" until they disintegrate or are recovered. Ben employed side-scan sonar at high tides and high-powered optics during spring low tides to help locate and retrieve ghost traps on New Jersey's Cape May Peninsula. Diamond-backed terrapins drown in both actively fished and derelict crab traps. Ben investigated the demographic impacts of ghost traps on diamond-backed terrapins by estimating minimum mortality levels from sal­vaged skeletal remains. He also employed allometry techniques to extrapolate the body sizes of the original live ter­rapins. This allowed him to determine which terrapins would have been excluded from traps if they had been fitted with bycatch reduction devices.

Ben with 13 ghost traps recovered at the end of the 2013 season
To describe these bone-based investigations, he coined the term "conser­vation osteology." Ultimately, he is seeking to reduce terrapin mortality through increased awareness and wide­spread use of bycatch reduction technology. He will present background information, field and lab techniques, re­sults and their conservation implications, and discuss directions for future research and management.



Ben Atkinson earned a B.S.Ed. in Environmental Ed­ucation at Slippery Rock University and an M.S. in Inter-disciplinary Ecology from the University of Flor­ida (UF). He received his Ph.D. in Wildlife Ecology and Conservation, also from UF. Ben has lived and worked at the Wetlands Institute in Stone Harbor, New Jersey, and the Chelonian Research Institute in Oviedo, Flor­ida. He is a regional representative for the Diamond­back Terrapin Working Group and a member of the ad­visory committee for the Eastern Box Turtle Conserva­tion Trust. Ben has published scientific articles and natural history notes in several herpetological journals. His pri­mary focus is undergraduate education, and he especially enjoys getting students into the field to do turtle conserva­tion–based research. Ben teaches full-time for the Department of Natural Sciences at Flagler College in St. Augus­tine, Florida.