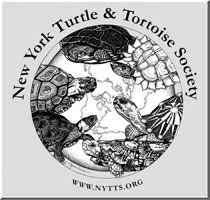 The New York Turtle and Tortoise Society presents


Seminar 2013



Saturday, March 9, 2013
Check-in 9:30 a.m.; Sessions 10:00 a.m.–5:00 p.m.



The Arsenal in Central Park, 5th Avenue at 64th Street,
New York City

Seminar 2013, the twenty-eighth NYTTS Annual Seminar, was held in the third floor Gallery in the Arsenal in Central Park. We were pleased to hear in-depth presentations by Russell Burke, Jack Rudloe, and Peter Pritchard.
| | | | | |
| --- | --- | --- | --- | --- |
| Russell Burke | | Jack Rudloe | | Peter Pritchard and Suzanne Dohm |
| | | |
| --- | --- | --- |
| A full crowd at Seminar 2013 (Russell Burke's presentation) | | Peter Pritchard giving his presentation |
Photos by Anita Salzberg


Program

Morning Session (
10:00 a.m.–12:00 a.m.
)

Welcome and Announcements
---


Russell Burke with Galápagos tortoise


Russell L. Burke
Professor of Biology, Hofstra University


"Jamaica Bay Terrapins:
A 14-Year Project Looking Forward"


Russell Burke's lab has been studying the diamondback terrapins on Jamaica Bay since 1998, and has uncovered many surprising details about the basic ecology of this species and this particular population. For example, root predation can account for as much as 30 percent of the egg predation in some years, and hatchlings often emerge from nests in the fall and re-bury themselves in the soil up to 50 meters away to wait out the winter. Other things are to be expected: raccoons are important predators on eggs and adults, and females return to nest repeatedly in the same area.



Despite 14 years of study, many important questions remain. The length of this project has allowed Burke's team to detect some surprising trends that remain unexplained, including dramatically reduced clutch frequency, increased egg size, and increased clutch size. Burke's lab is just beginning to examine the effects of two major storms, and the explosion of terrapin nesting activity at John F. Kennedy International Airport remains difficult to explain. The diets of Jamaica Bay terrapins contain much more plant material than has been reported for any other terrapin population. These and many other puzzles will keep Dr. Burke and his lab busy for a long time to come.



Russell Burke's long-standing interest in reptiles was the major influence in his decision to pursue a career in biology. He earned a B.S. in zoology from Ohio State University, and an M.S. in wildlife ecology from the University of Florida in Gainesville, working on gopher tortoise conservation. His Ph.D. in Biology is from the University of Michigan, where his work focused on the ecology and evolution of midwestern freshwater turtles.



His current long-term projects include ecological studies of diamondback terrapins in Jamaica Bay and wood turtles in northern New Jersey, and numerous shorter studies have included the ecology of invasive Italian wall lizards on Long Island and in Italy, as well as studies of Lyme disease, its tick vectors, and its wildlife hosts. At Hofstra, Dr. Burke teaches ecology, evolution, conservation biology, urban ecology, and wildlife disease ecology, and he is one of the coordinators of the new Urban Ecology program. He co-teaches Hofstra's Biology-Geology study abroad class on the Evolutionary Ecology and Geology of Ecuador, including the Galápagos Islands. He has an active research laboratory, which involves high school students, Hofstra undergraduates, and six to eight graduate students, all of whom participate in every step of his research projects. See Russell Burke's page at Hofstra.


— Lunch —

Afternoon Session (1:30–5:00 p.m.)


Jack Rudloe
Author and Co-Director of Gulf Specimen Marine Lab, Panacea, Florida


"Fifty Years of Sea Turtles"


For fifty years, Jack Rudloe has worked with sea turtles all over the world, from Florida to Madagascar to Central and South America. He led the fight to protect sea turtles and enact the first laws in Florida in 1973, and worked to get shrimpers to use Turtle Excluder Devices. He and his late wife, Anne, published numerous scientific and popular articles on the endangered Kemp's ridley sea turtle, and widely in Central America on the ancient Turtle Mother Myth.



Recently, after his wife passed away, Jack traveled to the Pacific and wrote, "Hawaii's filled with outrageous green turtles that swim amongst masses of people, and crawl out on rocks and sun themselves like sliders on a log in a lake. They crop down the sea lettuce and other algae on the rocks, and actually go to sleep on the cobbles. I got a chance to lay out with them, side by side, and took a nap with six of them for an hour or two. They aren't the brightest bulbs in the box, thought I was a turtle maybe."



Jack Rudloe was born in New York City in 1943 and moved to the Florida panhandle when he was fourteen, where he learned to hunt, fish, and roam the swamps. He has published six nonfiction books (Sea Brings Forth, Erotic Ocean, Living Dock, Time of the Turtle, Wilderness Coast, and Search for the Great Turtle Mother) and two novels (Potluck and Chicken War). With his late wife, Anne, he published numerous articles in popular magazines, including National Geographic, Smithsonian, and Sports Illustrated. In 1964 he started the Gulf Specimen Marine Laboratory, which supplies marine life to schools and research laboratories and also functions as an environmental education center. Over the years he has appeared on the "NBC Today Show," "Good Morning America," the Fox Network, and in public television documentaries. He has also lectured for civic clubs, schools, universities, and government agencies, often incorporating both slides and creatures into his presentations.


---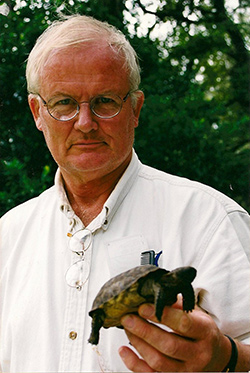 Peter Pritchard at his home at the Chelonian Research Institute


Photo: TSA

Peter C. H. Pritchard
Director, Chelonian Research Institute, Oviedo, Florida


"The Loch Ness Monster of Turtles"


The world's rarest turtle, Rafetus swinhoei, is a true giant of the chelonian world. This freshwater Loch Ness Monster, is represented by a single mystical giant living in Lake Hoan Kiem in downtown Hanoi, a juvenile in Dong Mo, perhaps a few specimens living in the shadows of deep lakes in nature, and a large adult pair who lived alone as zoo specimens for more than fifty years, separated by thousands of miles. By a miraculous feat of politics, ingenuity, and human labor, these two individuals were brought together for the purpose of saving the species. In his new book,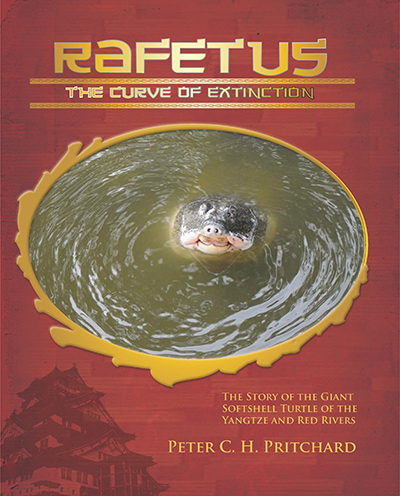 RAFETUS: The Curve of Extinction, Dr. Pritchard presents a story of looming loss, but also of hope.



Peter Pritchard, one of the world's foremost experts on turtles and tortoises, is the Director of the Chelonian Research Institute in Oviedo, Florida. The Institute houses one of the largest collections of turtle specimens in the world. He received his Bachelor's degree from Oxford and his Ph.D. from the University of Florida, where he studied marine turtles with Archie Carr as his major professor. Peter has written nine books about turtles, the most recent RAFETUS: The Curve of Extinction. He has studied turtles in many parts of the world, and for several decades has operated a field station in Guyana for protection of nesting marine turtles. Three species of turtle are named after him — a snake-necked turtle from New Guinea, a pond turtle from northern Burma, and a giant fossil sideneck turtle from Colombia. He has been recognized as a "Champion of the Wild" by the Discovery Television Channel, and as a "Hero of the Planet" by Time Magazine (see video below). In 2001, he was declared "Floridian of the Year" by the Orlando Sentinel.