Scheduled Program

Morning Session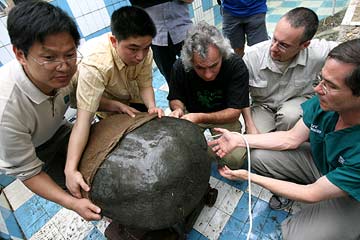 Dr. Gerald Kuchling from the Turtle Survival Alliance (center) performs an ultrasound examination of the female Yangtze giant softshell turtle at the Changsha Zoo to determine the stage of her reproductive cycle prior to transport to the Suzhou Zoo. Holding the turtle on the far left is Dr. Lu Shunqing from the Wildlife Conservation Society's China Program with her keeper at the Changsha Zoo, Mr. Jiang Houfu. Dr. Calle is to the far right with Dr. Alex Grioni from Hong Kong's Kadoorie Farm and Botanic Garden.


Photo: © Qi Zhenlin

Paul Calle
Director of Zoological Health, Wildlife Conservation Society


"Efforts to Save the Critically Endangered
Yangtze Giant Softshell Turtle"


After surviving for thousands of years in the rivers of Southeast Asia, the Yangtze giant softshell turtle (Rafetus swinhoei) is on the brink of extinction with just four known to survive, three of which are males. Two are located in Vietnam: one in the wild in Dong Ma Lake (discovered in 2008) and the other in Hanoi's Hoan Kiem Lake. Two survive in China: one male at the Suzhou Zoo and one female at the Changsha Zoo. She was only discovered in January 2007 as a result of a series of workshops and efforts sponsored by the Wildlife Conservation Society (WCS) and the Turtle Survival Alliance (TSA). The turtles' conservation status could not be more dire.



The attempt to save this critically endangered species was a collaborative effort by the two Chinese zoos, the China Zoo Society, WCS, and the TSA, with additional support from Hong Kong's Ocean Park and Kadoorie Farm and Botanic Garden. In May 2008 the still reproductively active, over 80-year-old female at the Changsha Zoo was transported over 600 miles to the Suzhou Zoo (which is located about an hour's drive west of Shanghai) with hopes of introducing her to the only male in China, who is over 100 years old. The turtles were initially separated by a grating, and observers from WCS, TSA, and the two Chinese Zoos were thrilled when the two turtles almost immediately demonstrated obvious interest in each other. After being successfully introduced they engaged in courtship behavior and successfully mated. She laid one clutch of eggs in June, and a second clutch in July (totaling over 100 altogether) in the sandy nesting beach of her exhibit at the Suzhou Zoo. For incubation, the eggs were evenly divided with some eggs left in the natural nest in her exhibit and the remainder separated into three incubators set at three different temperatures (to ensure hatchlings of both sexes if there was temperature-dependent sex determination in this species). The chelonian conservation community waited and hoped for hatchlings by the end of the


The female Yangtze giant softshell turtle (Rafetus swinhoei) rests near her nesting beach in an exhibit at the Suzhou Zoo. The male can be seen in the water near her.

Photo: © Paul P. Calle

summer—and renewed hope for the species. For more details see Last Ditch Attempt to Save World's Most Endangered Animal — Yangtze Giant Softshell Turtle (Wildlife Extra), Yangtze Giant Softshell Turtle on Brink of Extinction (Webvet), One of the World's Rarest Turtles Rescued in Vietnam (PDF) (Asian Turtle News), and Workshop for the Hoan Kiem Turtle (Rafetus swinhoei) in Dong Mo Lake, Son Tay District, Hanoi, Vietnam (PDF) (Asian Turtle News).



Although many eggs were fertile and began to develop, the attempt to reproduce the endangered turtle failed when all the eggs in the natural nest and all three incubators died early in incubation. The two turtles entered hibernation at the Suzhou Zoo in the fall of 2008 and hopes are high for more success in the coming year.



Dr. Paul Calle has seen a lot of patients in his 19 years with the Wildlife Conservation Society. As Director of Zoological Health, his home base is the Wildlife Health Center at the Bronx Zoo. In addition to caring for the animal collections of the five WCS parks (the Bronx, Central Park, Queens, and Prospect Park Zoos and the New York Aquarium), Paul has also travelled widely in support of WCS's global conservation projects, including chelonian work in Russia, Vietnam, Cambodia, and Myanmar.



Afternoon Session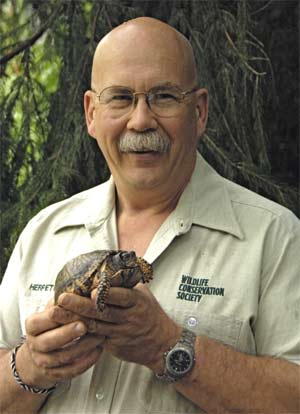 Bill Holmstrom holding an eastern box turtle


Photos: Julie Larsen Maher, © WCS

Bill Holmstrom
Collection Manager, Department of Herpetology, Bronx Zoo
Wildlife Conservation Society


"WCS, TSA, and Turtle Conservation in Myanmar"


In 1999, WCS Curator of Herpetology John Behler proposed a chelonian husbandry and conservation training workshop for government workers in Myanmar. Since the success of that workshop, the WCS field office in Yangon has coordinated a series of surveys, workshops, and eventually a partnership with the Turtle Survival Alliance that have combined to make the Myanmar program a model for chelonian conservation initiatives in SE Asia.

Bill with Malaysian giant turtle, Orlitia borneenisis
The Myanmar Program is one of the over 300 wildlife conservation projects conducted by WCS with the help of 60 scientists and 100 researchers in Asia, Africa, and Latin America.



Bill Holmstrom is no stranger to NYTTS members, having given several talks over the years as well as serving as judge for the Turtle and Tortoise Show. Bill began his career in herpetology as a reptile keeper at the Bronx Zoo in 1976. As Department Supervisor and Collection Manager since 1988, he has had many opportunities to participate in WCS conservation and research projects around the world. He has made seven trips to Myanmar for the WCS Asia Program. For more information, see this recent news report from The Myanmar Times.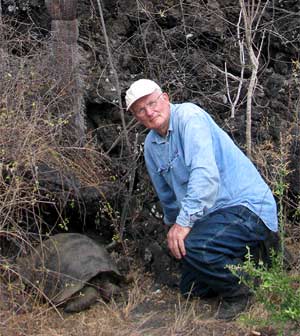 Peter Pritchard on Isabella Island with a volcán wolf tortoise, Geochelone nigra becki

Peter C. H. Pritchard
Director, Chelonian Research Institute, Oviedo, Florida


"The Pinta Tortoise Saga Continues . . ."


In 1973 a single surviving male tortoise was discovered on Pinta Island, the tortoise now known to the world as "Lonesome George." Since that time concerted search efforts have turned up no other survivors, let alone a mate for Lonesome George. Back in October 2003, Pritchard and a team of experienced goat hunters and tortoise field staff searched the island to see if any traces of live tortoises remained. As reported to us by Pritchard at our Seminar 2004, they found only skeletons and isolated bones, corresponding to 16 different tortoises.



The December 2008 Galápagos expedition—this time searching Duncan Island—consisted of a team of 42 people, including water carriers, numerous Galápagos Park Service field staff, geneticists from several countries, Joe Flanagan from the Houston Zoo, the famous nature photographer Tui de Roy, British photographer Peter Oxford, and Peter Pritchard were able to find an astonishing 1,650 tortoises, ranging in size from hatchling to adult. For reasons still unclear, 9 of the 91 tortoises found by our subgroup (the only one working near the coast) were saddlebacks, some of which looked like Española tortoises, a couple looked like they came from Duncan, and one (!!!) may have been a Pinta island female.





Peter at the Chelonian Research Institute
Photo: Julie Larsen Maher, © WCS

Peter Pritchard, one of the world's foremost experts on turtles and tortoises, is well known to NYTTS members. He is the Director of the Chelonian Research Institute in Oviedo, Florida, which houses one of the largest collections of turtle specimens in the world. He received his Bachelor's degree from Oxford and his Ph.D. from the University of Florida, where he studied marine turtles with Archie Carr as his major professor. Peter has written eight books about turtles, the most recent a semi-autobiographical work entitled Tales from the Thébaïde. He has studied turtles in many parts of the world, and for several decades has operated a field station in Guyana for protection of nesting marine turtles. Currently, his main activities involve turtles and tortoises in the Galápagos Islands and in eastern Asia, as well as performing a variety of roles in the administration and operation of the Chelonian Research Institute.