The New York Turtle and Tortoise Society invites you to

Seminar 2007

Sunday, March 25, 2007
Registration 9:30 a.m.; Sessions 10:00 a.m.–5:00 p.m.

PLEASE NOTE CHANGE OF LOCATION!
American Museum of Natural History — Linder Theater
79th at Central Park West, New York City
(Enter through security entrance under stairs on Central Park West.)
The New York Turtle and Tortoise Society's twentieth Annual Seminar will be a full-day event, featuring four presentations. The fee for the day, which includes lunch, is $50 per person ($20 for students with ID).
Please note change from previously announced location: Seminar 2007 will be held at the American Museum of Natural History. On Manhattan's Upper West Side, easily accessible by public transportation, the Museum has been the site of our regular monthly meetings for 30 years. Visit the Museum's Web site (amnh.org) and Natural History magazine (naturalhistorymag.com).
Scheduled Program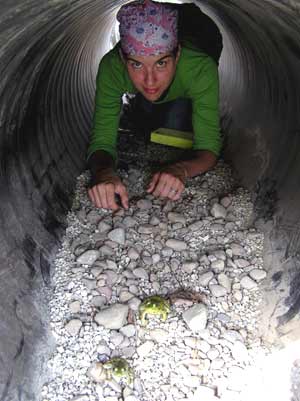 Hara Woltz in pipeline with creatures

Hara Woltz
CERC Program Graduate, Columbia University; Ph.D. Candidate


"Road-Crossing Structures for Amphibians and Reptiles:
Informing Design through Behavioral Analysis"


Seasonal movements are fundamental to the life cycles of many species of amphibians and reptiles. These patterns of migration can be compromised by the presence of roads. Roads negatively impact many amphibian and reptile populations in various ways, such as obstructing movement, fragmenting and degrading habitats, and causing increased mortality through vehicular contact.
Road crossing structures provide one possible way to mitigate the negative effects of roads and facilitate safe passage for these organisms. However, if crossing structures are to be effective, animals must be willing to use them. Through a series of behavioral choice experiments, we examined whether certain aspects of structural design might influence animal preferences for particular crossing structures. We tested four qualities of possible under-road crossing structures: aperture size, substrate material, length, and light availability. For these qualities, we evaluated the responses of individuals from four species: northern green frogs (Rana clamitans), leopard frogs (Rana pipiens), painted turtles (Chrysemys picta), and snapping turtles (Chelydra serpentina).
Results indicate that for particular organisms, specific variables did seem to influence patterns of choice. In the aperture treatment, the choices of painted turtles, snapping turtles, and leopard frogs indicate that pipe diameter exerts a significant influence on choice. The substrate treatment indicated that green frogs have a significant preference for soil and gravel over other materials. Overall, these results elucidate important considerations for the design of behaviorally palatable crossing structures.


(This study was conducted with Professor James Gibbs, Conservation Biology & Wildlife Management, State University of New York, Syracuse.)


Hara Woltz received a master's degree in conservation biology, graduating from the CERC program at Columbia University, and plans to continue on for her Ph.D. She also has a master's degree in landscape architecture from the University of Virginia. Before entering the program at Columbia, Hara worked as a landscape architect. She currently consults in both fields, combining design and conservation on a variety of projects.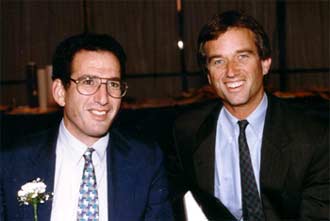 Conference Chair Michael W. Klemens with Keynote Banquet Speaker Robert F. Kennedy, Jr. at the International Turtle Conference in July 1993

Michael W. Klemens
Founding Director and Senior Conservation Scientist,
Metropolitan Conservation Alliance,
Wildlife Conservation Society


"Local Land Use Planning and Turtle Conservation"


In the northern United States the majority of land use decisions are made at the local level by town boards and commissions. To conserve the complex mosaic of habitats utilized by turtles it is necessary to develop ecological understanding within these boards and commissions, and assist those legal entities in applying that information to make sound conservation decisions. This lecture will discuss the lessons learned from two decades of experience conserving turtles at the local level.



Michael Klemens is well known to NYTTS members as a frequent speaker at Society meetings and especially as Conference Chair of the 1993 Purchase Conference (co-sponsored by the Turtle Recovery Program and the New York Turtle and Tortoise Society). He is a Senior Conservationist at the Wildlife Conservation Society (WCS) and has been on the scientific staff of the American Museum of Natural History since 1979.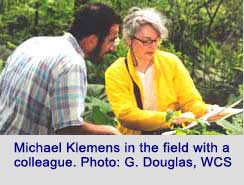 He is founding director of the Metropolitan Conservation Alliance (MCA), a WCS program to bridge the gap between conservation science and land use planning. Through MCA, he has translated biological data and conservation concepts into planning tools that achieve better conservation at local and regional scales. See the MCA Web site.



His most recent book, Nature in Fragments: The Legacy of Sprawl, is the definitive book on this subject to date. He strongly advocates that scientists have a responsibility to actively engage in conservation efforts and to this end, serves on local, regional, and national steering committees and technical advisory boards.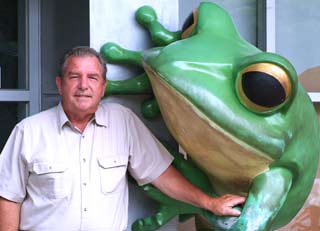 Robert Zappalorti at the Amphibian and
Reptile House, Taipei Zoo, Taiwan

Robert T. Zappalorti
Executive Director, Herpetological Associates, Inc., Plant and Wildlife Consultants, New Jersey, Pennsylvania, and Florida


"The Secret Life of Gopher Tortoises — Observation on their Ecology and Behavior in Central Florida"


Observations were made over a three-year period on the burrowing habits, foraging, mating, and egg laying of the gopher tortoise (Gopherus polyphemus) at a sand hill habitat in Marion County, Florida. A photo documentation of the social behavior and feeding of the tortoise will be shown, along with information on their seasonal activity patterns. Female tortoises sometimes temporarily share burrows, while males tend to remain by themselves. Males will seek and court females in their burrows by a series of head and neck movements from the apron of the burrow. Once the female comes to the surface, the male will try to mount her from behind. If the female is not interested, she will run down her burrow, knocking the male off her carapace when he hits the roof top of the burrow. Sometimes the male will end up on its back. During warm days (19–29° C), gopher tortoises were observed foraging on grasses, berries, clover, flowering plants, and other leafy herbaceous species native to their habitat. They are known to eat over one hundred plants, including prickly pear cactus. Aggressive behavior in the form of charging and ramming, shell butting, and flipping the opponent was also observed between two males, and sometimes between two females. A petition to list the Florida gopher tortoise as a "threatened" species has been submitted to the Fish and Wildlife Service and the Florida Fish and Wildlife Conservation Commission. This listing should be official in July 2007.



Robert Zappalorti has given presentations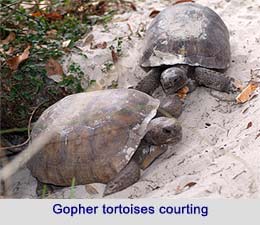 at NYTTS meetings in past years on his long-time specialty, bog turtles. His current observations on gopher tortoises have been made virtually from his own back yard in Florida.



Robert founded Herpetological Associates, Inc. (HA) in 1977. The firm specializes in the conservation and ecology of threatened and endangered amphibians and reptiles. He has conducted extensive scientific research on the bog turtle, wood turtle, redbelly turtle, timber rattlesnake, corn snake, pine snake, blue-spotted salamander, tiger salamander, southern gray treefrog, Pine Barrens treefrog, and many other species. He specializes in conservation and mitigation plans and was the first herpetologist to build hibernacula for snakes and other wildlife in natural habitat areas.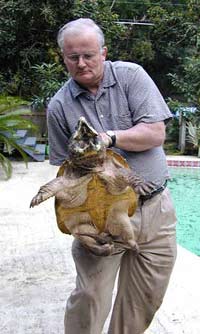 Peter Pritchard holds captive alligator snapping turtle at the
Chelonian Research Institute

Peter C. H. Pritchard
Chelonian Research Institute, Oviedo, Florida


"The Yangtze Giant Softshell, Rafetus swinhoei—
Progress Report: Bad News and Good News"


Two of the five known captive Rafetus swinhoei—one in Beijing and one in Shanghai—have died in the last year. But the bad news is relieved a little by two events: the recent "discovery" of an adult female in a zoo in Hunan Province, with a history of annual oviposition even though no male is present; and a key planning meeting of the stakeholders (nearly all Chinese) in Suzhou, the town in which three of the captive individuals live. These stakeholders include concerned conservationists, representatives of the China zoo community, officials of national and provincial conservation agencies, and the abbot and another representative of the Buddhist temple where the surviving pair of swinhoei reside. Plans for controlled captive breeding are developing.



Peter Pritchard, the well-known author of the Encyclopedia of Turtles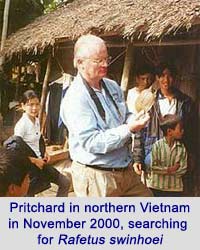 and many other books on turtles, is one of the world's foremost experts on turtles and tortoises. He has spoken numerous times at NYTTS Annual Seminars since 1987, covering such diverse turtle topics as "Turtles and Tortoises of Australia," "Tortoises of Aldabra," "In Search of Chitra indica," "The Giant Tortoises of the Galápagos," "Sea Turtle Conservation in Guyana," "The Turtle Crisis in Southeast Asia," "The Pinta Island Tortoise, In Search of a Mate for Lonesome George," and "A Tour of the Chelonia Institute."



Through his scientific and popular writing, his films, and his speaking engagements, Peter has made turtles popular in the public mind, greatly increasing support for their conservation. In 2000, Time Magazine declared him a "Hero of the Planet."