Seminar 2017
Saturday, March 25, 2017, 10:00 A.M.–5:00 P.M.
Sarah Lawrence College Center for the Urban River at Beczak
35 Alexander Street, Yonkers, New York


The Beczak Environmental Center is an easy drive up from the city or down from points in Westchester County. Ample parking is available. It also just two blocks north of the Yonkers Metro North (Hudson River Line) station (see map and train schedules (PDF)).
Driving Instructions:


Recommended Route: From the Sawmill River Parkway take Exit 5 (right exit ramp from either direction) onto Yonkers Avenue going west (turn right at stop sign at end of ramp). Follow Yonkers Avenue west, which becomes Nepperhan Avenue. Continue on Nepperhan Avenue, which becomes Prospect Street. In three blocks street ends; turn right (north) onto Buena Vista Avenue. Continue north on Buena Vista (passing the Metro North railway station on your left). Street ends at Wells Avenue; turn left one block under the railway overpass, then right (north) onto Alexander Street. Beczak is one more block on your left.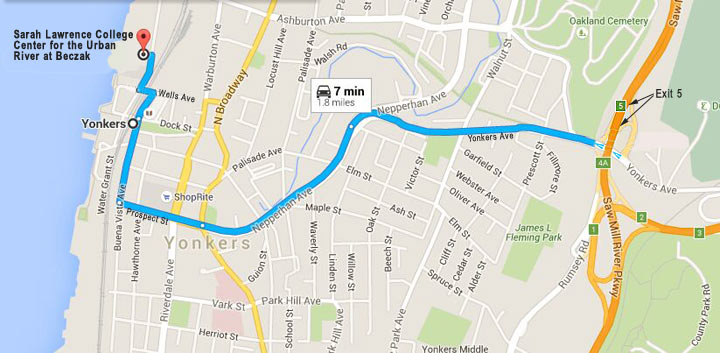 Download and print this map (PDF).
For those looking for a ride, there are carpooling possibilites. If you need or can offer a ride, please write QandA@nytts.org.
If you have further questions, please e-mail info@nytts.org.
Retun to Seminar 2017.